A dream Bay of Islands wedding location: the ideal hideaway to celebrate your wedding and create memories to treasure.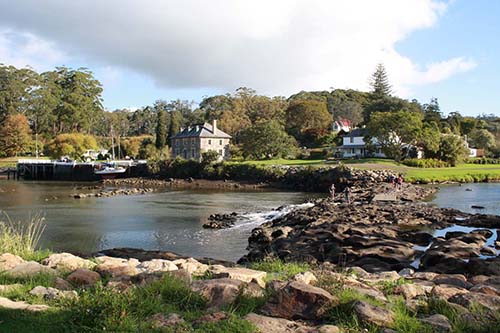 "Gorgeous place, happy memories, wonderful host."
Reviewed April 1, 2013 Read the Trip Advisor review
My husband and I were married at Stone Store Lodge and spent our first night as a married couple there too. It is a beautiful, stylish property with colourful art and an amazing view. Richard was extremely kind, helpful and laid back - he allowed us to move his furniture and decorate the garden for our ceremony and didn't even bat an eye when one of our younger guests damaged his glass flowers! Richard was every inch the gracious yet chilled out host. The bedrooom was a roomy, tastefully decorated en suite with a balcony and a large comfy bed. Stone Store Lodge is very peaceful and well located just a short walk to the river, the Stone Store and 2 lovely restaurants. We ate at both 'The Pear Tree' and 'Food at Wharepuke' during our wedding day (which was something like a day of rambling to beauty spots and outdoor picnic). The breakfast was great - healthy, filling and cooked to perfection and included proper tea served in a pot or espresso coffee :) All in all I would whole heartedly reccommend Stone Store Lodge to anyone looking for a lovely intimate place to marry, or just a really great place to stay. Thank you Richard for all of your help; we sincerely look forward to visiting you again.
Overlooking the historic Stone Store in the Kerikeri Basin and nestled into a bush-clad hill, the lodge occupies an enviable position: a central location with all the seclusion of a bush retreat.
Our boutique accommodation provides an intimate venue for your bridal party to enjoy the build-up to the ceremony and calm those pre-wedding nerves.
The light-filled, spacious environment creates the perfect atmosphere for preparations. A fully equipped guest kitchen and lounge lead open on to a sun-drenched deck - ideal for mingling with friends and family.
Once the celebrations have run their course, the Stone Store Lodge offers a luxurious retreat for newlyweds to unwind in complete privacy.
Enjoy a delicious honeymoon breakfast, arrange a relaxing outdoor bush bath, stroll to the nearby historic pa site and experience top-notch dining at restaurants only minutes' walk away. There is a large range of other accommodation available nearby to cater for all your travelling guests.
For information contact This email address is being protected from spambots. You need JavaScript enabled to view it. on 09 407 6693.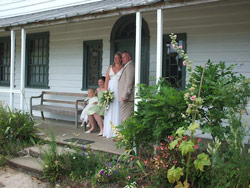 Nearby wedding venues and ceremony options:
The neighbouring St James Anglican Church for a more traditional venue (enquiries to 09 407 1486)
For a truly historic occasion on the water, only 500m from the Lodge, contact the Stone Store and Mission House
We love Food at Wharepuke – an award-winning restaurant set among lush subtropical gardens, minutes walk away
The Pear Tree is a beautiful waterside setting with great indoor/outdoor flow
Stone Store Lodge itself can host and cater small intimate ceremonies
Recommended Links:
Wedding Photographer in Kerikeri - Exposure Photographics
Beauty Therapist in Kerikeri - Body Divine
My Wedding Mag